About Peerless Insurance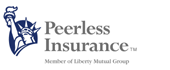 Since 1901, Peerless Insurance's commitment to providing the highest quality products and service has remained constant and has helped them rate consistently among the top performing insurance companies in the industry.
Peerless Insurance is a provider of exceptional commercial property and liability coverage and professional loss-control services for small - to medium- sized businesses. It also offers a broad range of insurance products and services for individuals and families.
Their member companies have earned financial ratings of "A'' (Excellent) by A. M. Best, the industry standard for financial strength. Peerless Insurance is a member of the Regional Agency Markets (RAM) unit of Liberty Mutual.
For more information about RAM, see its website: http://www.libertyram.com
Boston-based Liberty Mutual Group is a diversified international group of insurance companies and one of the largest multi-line insurers in the North American property and casualty industry. The group has $14.5 billion in consolidated revenue and ranks 129th among the Fortune 500 largest corporations in the United States. The A.M. Best Company has rated Liberty Mutual "A'' (Excellent).