Plan 2 - Blanket Coverage
This is a special coverage for those collectors whose total inventory is less than $200,000. It provides a blanket amount to cover all of the collection. You do not have to submit a written inventory. There is a limitation of $5,000 on any one item. Items in excess of $5,000 may be scheduled. If you desire to include your layout, place a value under Item ''Layout.'' You can still submit an inventory regardless of the value of your collection.
Note: This special policy contains the following: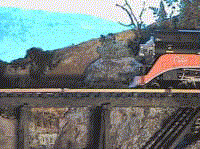 Coinsurance Clause: All covered property must be insured for at least 80% of its total value at the time of loss or you will incur a penalty. The penalty is that Peerless Insurance will pay only the proportion of any loss that the limit of insurance bears to the actual cash value at the time of loss. To be fully protected, you should insure your collection to 100% of its total value.
Be sure to purchase an adequate amount of coverage to comply with this clause.
Easy to apply for coverage
Simply complete the application on our website, attach Inventory (Schedule) if applying for Inventory Coverage, to J. A. Bash & Company, 300 Mt. Lebanon Blvd., Suite 225 Pittsburgh, PA 15234-1509) with a check for the annual premium and the NMRA Fee. The policy can be issued upon receipt of the completed application and payment of premium.
We advise you to examine the policy carefully for precise definitions, limitations, exclusions and cancellation provisions.
The wording of this or any brochure is not intended to represent the specific terms of any Peerless Insurance policy.
If you have questions, please call 1-800-654-2256. We are able to assist you in tailoring your coverage to meet your needs. Remember the plan is very flexible and can provide you with proper protection.

---